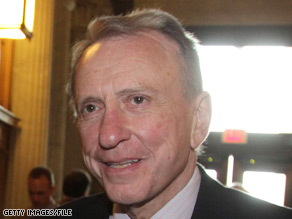 Being on the Hill this spring may be blinding, or brainwashing rather all the interns working for various congressional members during this 111th session of congress. The obvious disapproval across the isle of anything Democratic-sponsored is getting a little old, especially when it turns to outright disrespect (Massachusetts Senator Kirk's farewell address last Thursday was not well attended by other freshmen Senators on the Hill). I mean Scott Brown's defeat over Martha Coakley a few weeks ago shocked and awed Dems all over, but was it really that shocking?
Let's put that election into context.... Martha Coakley did NOT campaign well at all... Scott Brown was the "new hottness" as my political practicum professor might call it, sparking new energy in an aggravated, unheard independent voter population throughout the state, and who wouldn't turn to the "new hottness?" Also, Coakley called in the big dogs way too late in the show... President Obama is a people mover, but not 48 hrs before an election that was lost to begin with.....
Now let's look at PA.. Good old (I mean really old) Arlen Specter, the party flopper, the indecisive politically left but personally right incumbent candidate residing in Philadelphia. Pat Toomey, almost half his age, the conservative who would be the "new hottness" there, only Pennsylvania votes interestingly in these elections. With major urban areas voting Democratic, Specter needs to win over the independents, and I'm not sure he's reached that point yet. This past weekend interesting news surfaced: PA's Democratic party endorsed Specter!! The flip-flopper, the epitome of "politics-as-usual" the 44-yr republican was welcomed to the Dems and now even wins the endorsement over Joe Sestak???
It's possible that party labels don't really matter anymore.. It's all for show, republicans and democrats alike provide our political entertainment by pitting themselves against each other, but it doesn't really matter. Gubernatorial elections come down to the voters, and what really matters is voter turnout for Arlen Specter. Let's see if he gets it done.